Elizaveta released Silent Night (Live in Russian) on December 25th, 2019 (PST), which was previously only available as a video. Please take a moment to listen to it below and link up your app to go: here: elizaveta.com/link/silentnight
For free download of the song, please visit Elizaveta's Patreon post HERE: https://www.patreon.com/posts/silent-night-32611997
Moreover, for the wallpaper giveaway, click the image or HERE.: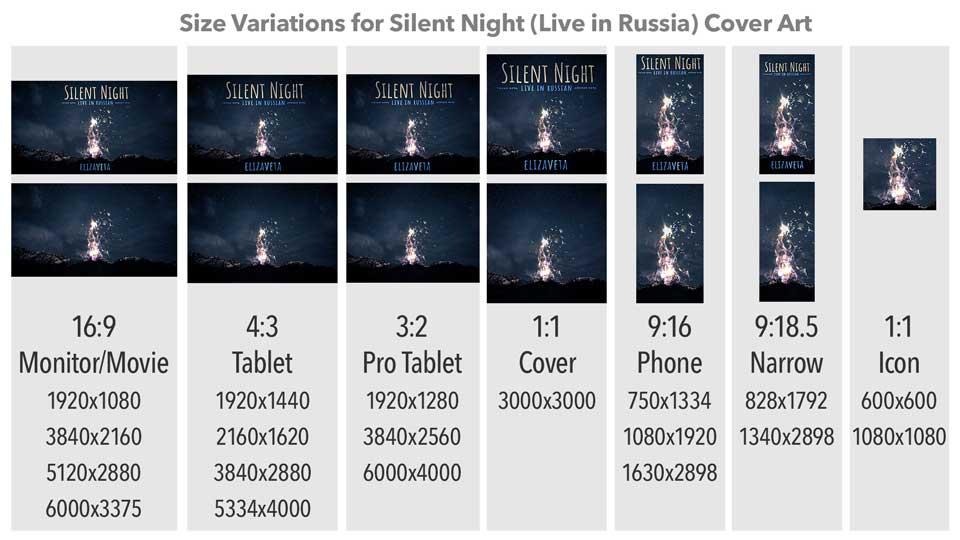 Credit
Vocal: Elizaveta
Guitar: Ben Cassola
Composition: Franz Gruber (1787–1863)
Original German Lyrics: Joseph Mohr (1792-1848)
English Translation: John F. Young (1820–1885)
Recording: David Peter @ Oak House Recording
Original photographs for the cover artwork came from those talents: Raphael Schaller, Joshua Newton, and Bhushan Sadani via Unsplash. 
Patreon Shoutout: Alen Novogradec, Andrew Kislak Da Costa, Arnold Brevick, Brendan Hope, Brian, Chris, Christophe, Conrad Reilly, David Blessing, Giovanni Marsico, Hector Olson, Irina Goldsmith, James Klem, Jerome R Miller, Ken Hertz, Kenneth Mak, Kyndra W, Mark Gardner, Mike Moran, Mike Newton, Nathan Hajj, Ondrej Bilka, ProverbialDog, René van R'stein, Ronald R Rafajko, Ronald Thrasher, Sage, Steve & Bobbie, Theora Craft, Tony Bui, Valentine, and Vinny Vu among many.